Folding Rolls, originally designed for the pharmaceutical industry and now used by myriad industries, are used in the manufacture of: Inserts, Outserts, Onserts, Booklets, and Leaflets
What Are Folder Rolls?
Folder rolls are mini-folders which were originally designed for the pharmaceutical industry. They can fold a typical 8.5" x 11" sheet of paper down to a size small enough to be inserted into a tiny box of eye wash, for instance. These days, they're widely used by many other industries such as entertainment, toys, cosmetics, high-tech electronics and retail, among others.
What kinds of folder rolls can we recover?
We recover all brands of "combo" folder roll; including Vijuk, GuK (G&K), H&H, Stahl, Balm, and MBO Spiral Foldrollers.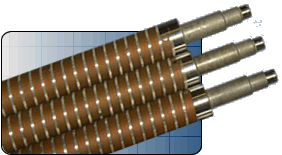 How can we help?
Our folder roll refurbishing starts with a close inspection of the bearing surfaces of the rollers then an alignment test to check the trueness (straightness) of the shaft.
After finish grinding and visual inspection, your recovered folder rolls are again checked for absolute straightness to be sure they'll run properly in your critical production machines.
Finally, to make sure your newly refurbished folder rolls return to you undamaged, we package them for shipping in a custom designed box.
Folding machines must run at high speeds. We make sure your folder rolls return like new.